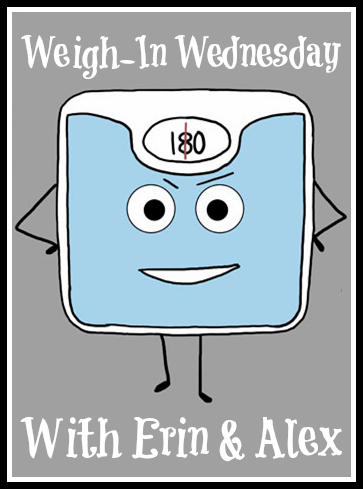 Today is my first time linking up with
Alex
and
Erin
for Weigh-in Wednesday. I just stumbled upon it last week, and thought I'd join in since I was planning on making a fresh start with my weight loss efforts on Monday the 1st anyway. If you are visiting from that link-up, welcome! I'd love to find some people to connect with that are on a similar journey.
Since I just started on Monday, though, I didn't actually weigh-in today, and I usually prefer to weigh-in on Fridays, anyway, so I'll probably continue to do that and just post on Wednesdays about my progress, or lack thereof.
So, if you are new here, here's where I'm at in a nutshell. I had once lost all my baby weight plus 7 pounds, putting me at 5 over my wedding weight. But in the last 3 years are so (my twin girls are 5) I have slowly but steadily gained it all back and then some. And I keep losing and regaining the same 3 or 4 pounds over and over and over, except sometimes I gain even more which is why I am now about 14.4 pounds over my pre-pregnancy weight.
The last few months have been especially hard on my weight loss efforts because of Valentine's Day, the girls' birthday, a whole bunch of other birthdays and finally, Easter (Cadbury Mini Eggs and Creme Eggs are both a huge weakness for me). But now that that is all behind me, I'm making a fresh start.
Again, it's only been 3 days so far so I don't have much to report, but I had two good workouts already this week, Monday and yesterday. I actually just posted a few days ago about my goals for April so you can scroll down and read that if you'd like.